Get Started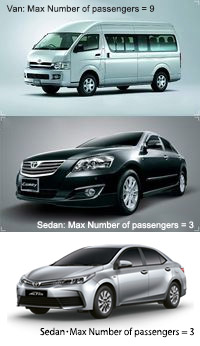 1. Please let us know the date and destination of your trip. When booking by email, please include the following information

1) Date of Trip
2) Destinations
3) Car type (Sedan・Max 3 passengers/Van・Max 9 passengers)
4) Number of passengers
5) Pick up time and place
6) Name of the contact person
2. Even if you have not finalized your plan, we can assist you so please feel free to contact us by phone / email.

3. We will pick you up at the place you requested
On the day of the trip, our driver will pick you up at the time and place you requested. We can prepare a placard for the public pick-ups, such as a hotel lobby.
4. Reservation confirmation
We will contact you for the confirmation of the reservation. We will let you know the driver's name, mobile phone number and pick-up time.
FAQ
What is the difference between Thai Sohwa and a rental car service?
We provide experienced drivers and the fuel price is included in our basic price.
Does the price change if the numbers of passengers change?
No. The number of passengers will not affect the price.
Could you pick us up at our condominium?
Of course. We will pick you up at the hotel, condominium, apartment or office at the time you like.
Can you provide a chauffeur service on short notice?
Yes. If you are in hurry, please call us.
Do your drivers speak Japanese or English?
We are sorry that we do not have a driver who can speak Japanese or English. However, all of our drivers have a mobile phone and they can contact the office anytime while they are on duty. Our operators will assist you if you have any problems.